The evidence for their use in western Norse lands is scant, but better evidence exists from eastern Norse regions.
From knee to foot, gathers the excess fabric of baggy trousers. Consists of two long, narrow strips of cloth, typically wool, wound around the leg and foot. By starting at the knee and wrapping downwards, no clips or fasteners are needed. The wraps stay firmly in place, even during vigorous activity; the fabric would have been woven to the correct dimensions for the intended purpose. These leg wrappings provide significant protection to the lower leg when crashing through dense brush, such as exists in Icelandic birch forests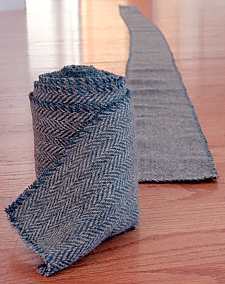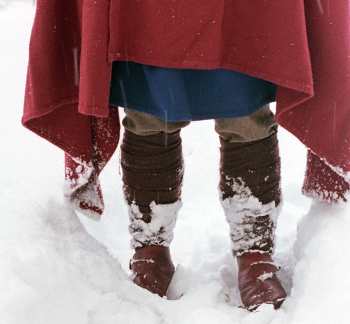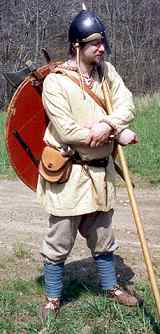 Socks apparently were optional, depending on the wealth of the individual. Those without the means for socks probably used moss or grasses or even hay to line their shoes. When socks were available, they were made of undyed wool. A sock found in York has a band of red trim at the top, which is how the reproduction shown to the right is constructed.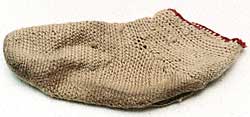 Norse socks were not knitted but made using nálbinding (needle-binding). Using a single large, thick needle, it was a method of knotting the yarn. It may be conceptually complicated, but knotting together garments is not only simple, but extremely fast. This approach resulted in a nearly indestructible garment. If the thread were to break or wear out, the garment would still be intact, since the thread was everywhere knotted to neighboring threads. Mittens and caps were also made using this technique. Note that the fabric grows in a spiral pattern. Once the spiral is large enough, it is knotted back on itself to create the shape of the finished article.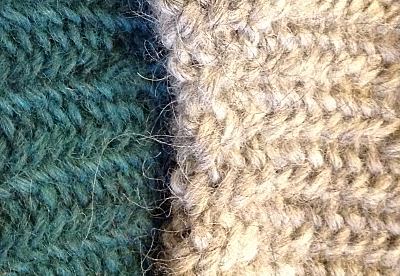 Sujets similaires
---
Permission de ce forum:
Vous
ne pouvez pas
répondre aux sujets dans ce forum